VITA SMART.FIRE Firing Furnace
Simple firing furnace for chairside restorations
VITA SMART.FIRE is a firing unit that helps support a simple digital workflow for dental clinics. With pre-installed programs and user profile customization for maximum flexibility, VITA SMART. FIRE is the ideal solution for firing chairside restorations. It includes the firing unit with an integrated accessory set, and a separate touch control unit that can control up to four firing units.
VITA SMART.FIRE
For all common chairside materials
VITA SMART.FIRE was developed specifically for chairside dental practices for the crystallization, glaze, stain, and corrective firing of all common chairside materials. In just one step, you can easily select the materials and start the program. Customized-specific programs are already pre-installed on this unit. Set it up anywhere. Its compact size saves you a lot of space.
Touch & Fire
VITA SMART. FIRE®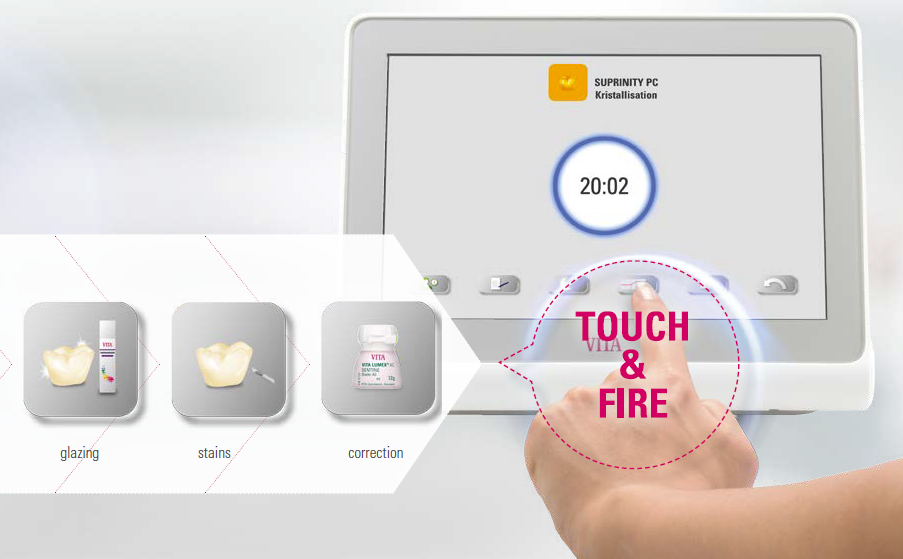 You can easily start the firing process thanks to its intuitive use of material selection and program start in one step. It has a fully automatic temperature calibration for reliable results. In addition to corrective firing, you can also use it for crystallization, glaze and stain.
Compatibility
VITA SMART. FIRE® suits the most common dental firing requirements and dental materials.
Technical Functions

Technical Functions

Service and monitoring programs, e.g. automatic temperature adjustment before every start of the program, temperature and vacuum control, counter for operating hours of firing muffles
Power failure protection
Adjustable vacuum values, adjustable pre vacuum and main vacuum
Lift monitor, adjustable lift speed
Freely adjustable lift positions for pre-drying and slow cooling

Chairside Firing Unit

Chairside Firing Unit

Housing:

ø 230 mm
D: 300 mm
H: 340 mm




Control Unit

Control Unit

W: 260 mm
D: 150 mm
H: 200 mm

TFT touchscreen
10 inches, 1280 x 800 USB/SD interfaces

Electrical Connection

Electrical Connection

230 Volt AC, 50 Hz or 100/110 Volt AC, 50/60 Hz

Power Consumption

Power Consumption

950 W (230 V), max. 1100 W (100 V, 110 V)

Firing Chamber Temperature

Firing Chamber Temperature

1050°C

Casing

Casing

Polyurethane

VITA SMART.FIRE Accessories

VITA SMART.FIRE Accessories

2x platinum pins
1x firing pad round (Ø 44 mm)
1x firing trays
1x firing pliers
1x cooling table
Available Designs
You can choose from 5 different designs for a totally different look of your VITA SMART.FIRE!
VITA SMART.FIRE® Art Line Design 1
DSF100D2 (mains voltage 100 volts)
DSF110D2 (mains voltage 110 volts)
DSF220D2 (mains voltage 230 volts)
VITA SMART.FIRE® Art Line Design 2
DSF100D2 (mains voltage 100 volts)
DSF110D2 (mains voltage 110 volts)
DSF220D2 (mains voltage 230 volts)
VITA SMART.FIRE® Art Line Design 3
DSF100D3 (mains voltage 100 volts)
DSF110D3 (mains voltage 110 volts)
DSF220D3 (mains voltage 230 volts)
VITA SMART.FIRE® Art Line Design 4
DSF100D4 (mains voltage 100 volts)
DSF110D4 (mains voltage 110 volts)
DSF220D4 (mains voltage 230 volts)
VITA SMART.FIRE® Art Line Design 5
DSF100D5 (mains voltage 100 volts)
DSF110D5 (mains voltage 110 volts)
DSF220D5 (mains voltage 230 volts)