DENTAL CAD SOFTWARE 
exocad DentalCAD
Powerful CAD Software for Dental Labs
exocad DentalCAD 3D design software is an open digital workflow solution allowing labs and clinics to cover a range of applications and maximize their productivity. With DentalCAD, organic modeling is simple for beginners and even more powerful in the hands of experts, providing the foundation for a truly digital workflow and giving your lab the ability to deal with simple and complex cases on a daily basis.
One Platform, All of Digital Dentistry
With exocad DentalCAD you unlock a wide range of services for your lab or clinic. This powerful dental design software contains modules that can power many applications within your digital workflow. With exocad's open architecture you aren't limited with your equipment choices, allowing you to work with the 3D scanner, 3D printer, or dental milling machine of your choice. Discover why exocad is the leading choice of dental CAD software for labs of all sizes and novices to experts.
Explore exocad DentalCAD by watching the video
Why Choose exocad DentalCAD?
Discover the power of open, easy-to-use and highly capable dental software
A Broad Range of Function
DentalCAD can power your lab to design a range of dental restorations and appliances all based on individual anatomies and patient-specific data. With an intuitive user interface, extensive functions and open tooth and material libraries you are guaranteed to have outstanding results.
Anatomic Crowns
Anatomic/simple copings
Attachments
Bridge Framework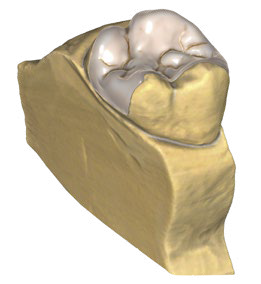 Bridge Inlays/Onlays
Veneers
Work with Waxups
Telescopic Crowns
Modules and Add-Ons
With exocad DentalCAD's extensive library of modules, you can tackle anything that comes up in your lab
Central to Your Digital Workflow
exocad's DentalCAD software is central for your lab or practice's digital workflow. With DentalCAD, you can easily communicate with intraoral scanners, dental milling machine,s, 3D printers, desktop dental 3D scanners and many other devices regardless of make or model.